BUDO IN MOTION: PERFORMING ARTS
"Budo in  Motion: Performing Arts" launched in 2018 as Budo Canada's own youth dance program. Budo Canada has private studios which are used within the facility for activities such as acrobatics, tap, and hip-hop. We provide a safe, clean, and professional environment for your children.
Our classes are taught by professional award winning celebrity choreographers who are internationally recognized and have had several years in the business in front of the camera and/or behind the scenes. Our choreographers have been in live Broadway shows, films, and television shows, having worked with companies such as Disney, CBC, Universal Pictures, Showtime, Family Channel, and YTV to name a few.
Budo in Motion's mission is to prepare our students technically while simultaneously teaching them how to perform and reach their goals in a fun, safe, and supportive environment. Budo in Motion will provide the students with a variety of styles and classes to choose from, whether your children are here to become a professional artist, or want to take part as a past time and for fitness, we cater to everyone.
BUDO IN MOTION - DANCE COACHES
Genevieve Burkette
Program Director & Instructor
Jordan Francis
Creative Director & Hip-Hop Instructor
Nicole Paggiossi
Acrobatics Instructor
Irmana Se
Ballet Instructor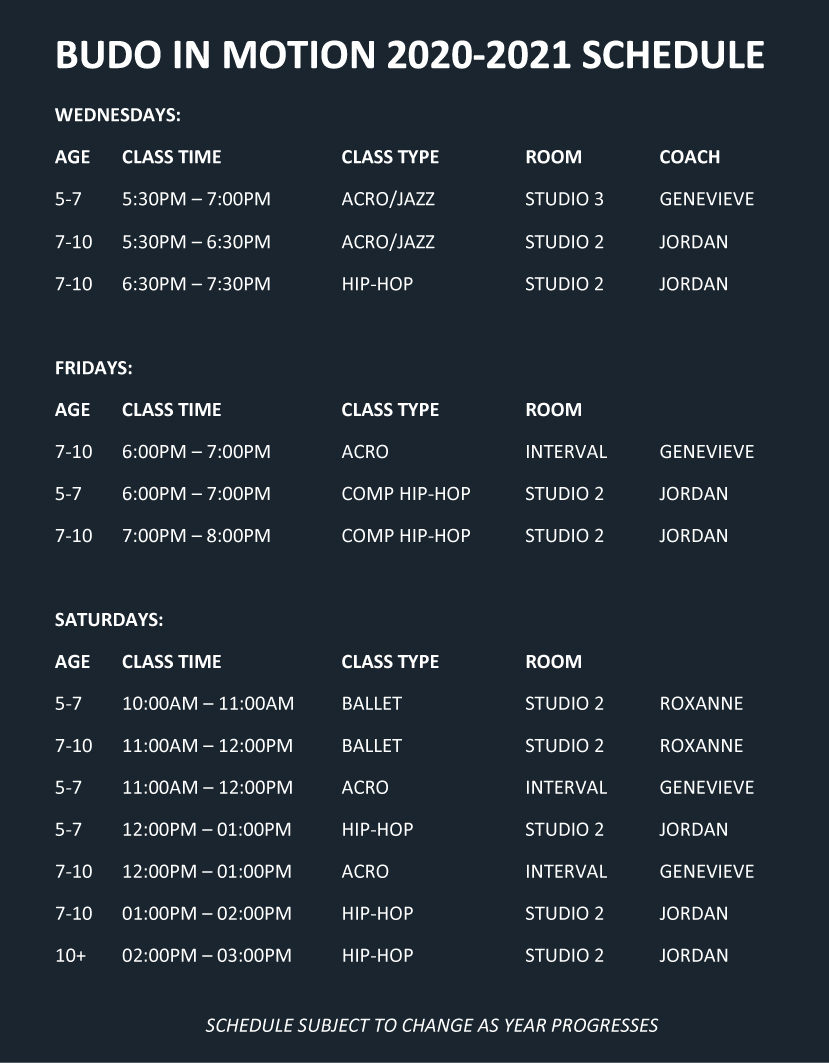 Subscribe to our new monthly Budo Canada mailing list to stay informed on our latest news, promotions, and upcoming events
Monday to Friday: 6:00am – 10:00pm
Saturday: 8:00am – 8:00pm
Sunday: 8:00am – 6:00pm
Closed Civic Holidays
COVID-19 May Impact Schedule. Please Contact Us Before Arriving.