COVID-19 MODIFIED SCHEDULE
DUE TO THE RESTRICTIONS APPLIED BY THE GOVERNMENT OF ONTARIO WE HAVE ADJUSTED OUR SCHEDULE TO MEET THE SAFETY GUIDELINES REQUIRED FOR US TO OPEN. THE SCHEDULE WILL CONTINUE TO EVOLVE THROUGHOUT THE REMAINDER OF THE 2020 YEAR. WE HOPE TO RETURN TO A FULL SCHEDULE BY THE END OF 2020.
TORONTO OFFICIALLY REVERTED BACK TO A MODIFIED PHASE 2 ON OCTOBER 10TH 2020. THEREFORE PLEASE MAKE NOTE OUR SCHEDULE BELOW ALLOWS FOR 1 CLASS OR OPEN WORKOUT SESSION PER HOUR, AT A LIMIT OF 10 PEOPLE. THIS FOLLOWS THE RESTRICTION OF A MAXIMUM OF 10 PEOPLE CAN BE IN THE FACILITY AT ONE TIME. KEEP IN MIND CLASSES WILL BE 45MINS LONG, ALLOWING 15 MINS OF CLEANING RIGHT AFTER EACH SESSION. YOU MUST BOOK ONLINE TO SECURE A SPOT. DO NOT COME INTO THE FACILITY IF YOU DO NOT HAVE A BOOKED TIME. PHASE 2 IS SAID TO LAST 28 DAYS, AND THEN WE HOPE TO BE BACK TO A PHASE 3 SCHEDULE AS PER PREVIOUS MONTHS.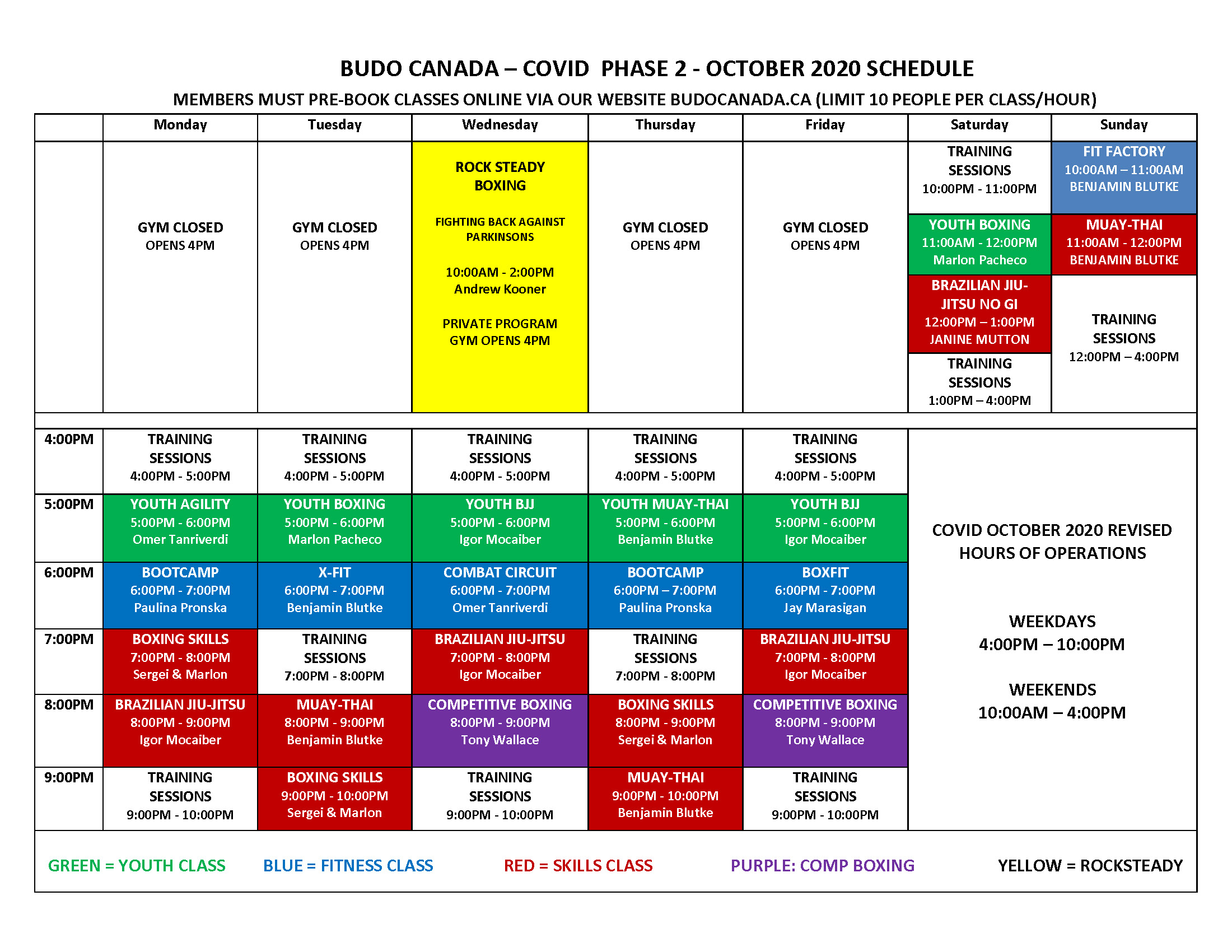 Subscribe to our new monthly Budo Canada mailing list to stay informed on our latest news, promotions, and upcoming events.
COVID MODIFIED HOURS:
Monday to Friday: 4:00pm – 10:00pm
Saturday: 8:00am – 4:00pm
Sunday: 8:00am – 4:00pm
Closed Civic Holidays