WHAT YOU NEED TO KNOW BEFORE RETURNING TO BUDO CANADA
OUR COVID REOPENING VIDEO: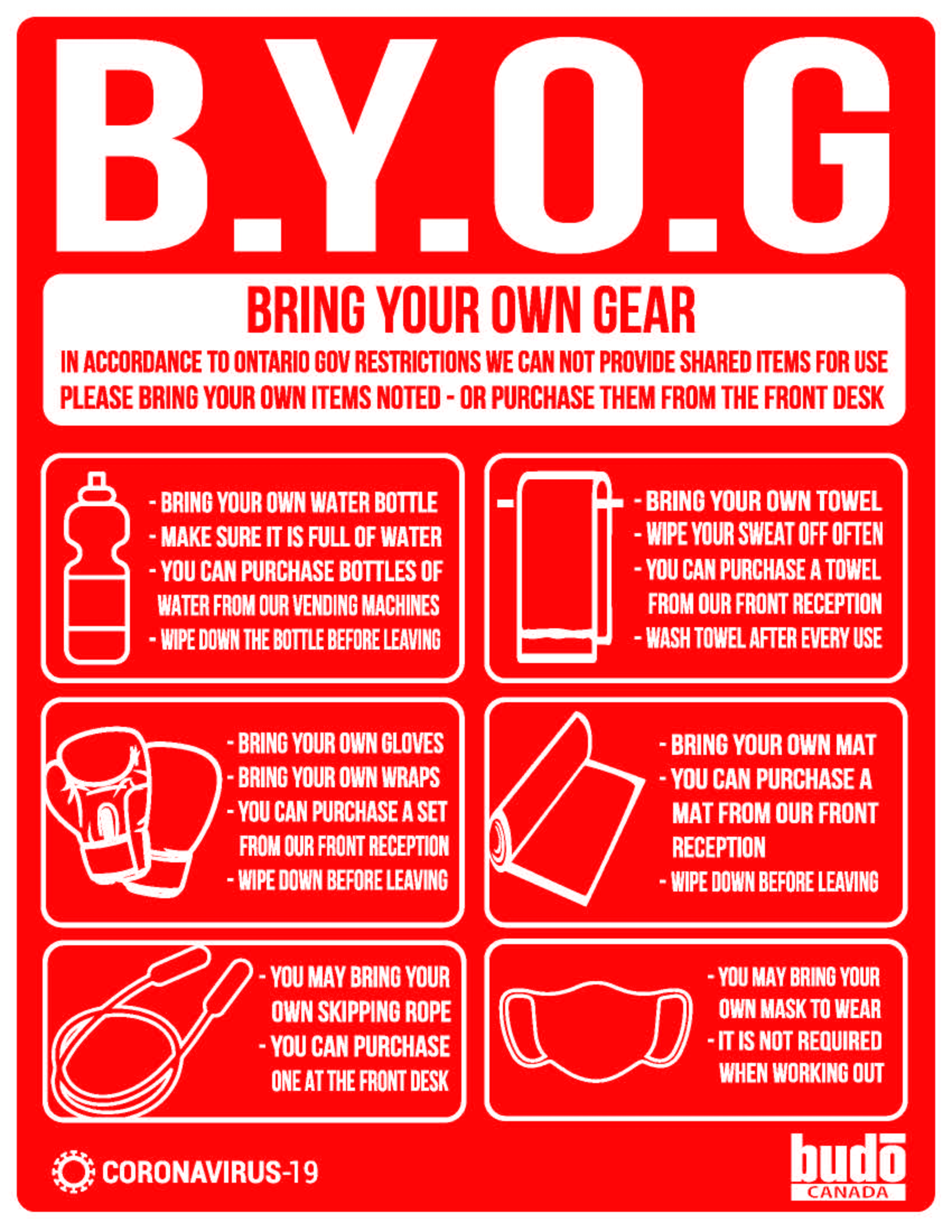 YES WE ARE OPEN FOR BUSINESS:
OCTOBER 11TH 2020
Dear Budo Canada Club Members,
Our government announced yesterday, in an effort to curb the spread of the virus, that Toronto will be moving to a "Modified Phase 2" starting at 12:01am on October 10th 2020.
Previously under Phase 2, Boxing Ontario, Muay-Thai Ontario, and The Ontario BJJ Association as a Provincial Sport Organization (PSO) approved clubs to open. As it stands, we have been told by the above associations that there has been no modification presented to this clause. Therefore, Budo Canada is open for business with a modified Phase 2 schedule and protocols listed below:
– You must register for one the associations noted above to be able to enter our facility. Muay-Thai Ontario registration is free, and can be completed by going here: https://muaythaiontario.org/documents/recreational-membership
– You can also register for one of the associations when you enter the facility if you are having issues doing it on your own online.
– We are limited to a 10 person capacity at any given time. Therefore our modified Phase 2 schedule has 1 class or open workout session per hour, and members must book a spot online via our website. Do not drop in without registering for a class, as you may be turned away if the classes/time slots are fully booked.
– To pre-book classes there will be a BOOK A CLASS NOW button on the schedule page of our website starting Monday Morning.
– You can only book classes up to 3 days in advance to avoid over-booking. If you are found to be repeatedly booking classes while not attending, you will be removed from being allowed to pre-book.
– Existing COVID protocols at Budo Canada will remain as is. Lockers/Showers remain closed. You must come in wearing a mask, and you will get your temperature checked before entering. Please follow all the protocols outlined in detail in our COVID video online, and our signage throughout the facility.
– These changes DO NOT apply to the Rock Steady Boxing (Fighting Back Against Parkinsons) program that occurs every Weds. Please continue to come as planned as we are well below the 10 person limit.
We are doing whatever steps we can to open in a responsible manner to ensure we do not contribute to the spread of the virus, while also providing a service our members have come to depend on us to deliver without interruption.
Should you have any questions or concerns please contact us via email at info@budocanada.com
Subscribe to our new monthly Budo Canada mailing list to stay informed on our latest news, promotions, and upcoming events
COVID19 MODIFIED HOURS:
Monday to Friday: 4:00pm – 10:00pm
Saturday: 8:00am – 4:00pm
Sunday: 8:00am – 4:00pm
Closed Civic Holidays