WHAT YOU NEED TO KNOW BEFORE RETURNING TO BUDO CANADA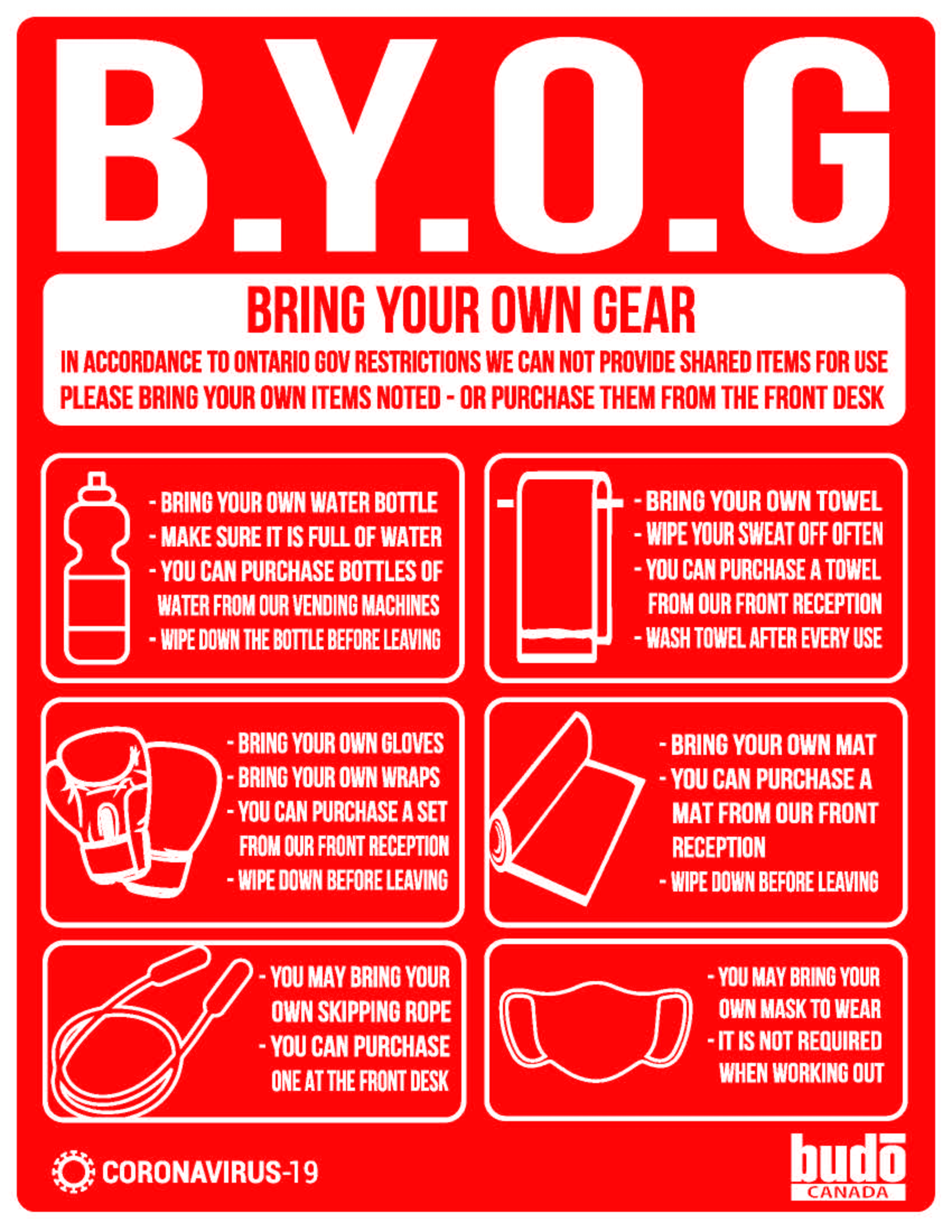 We are happy to announce that we have reopened our doors since July 13th 2020. Over several months of hard work and discussions, workshops, renovations, and approvals, we received certification/approval to open under Boxing Ontario, Muay-Thai Ontario, and the Ontario Jiu-Jitsu Association, in accordance to our Ontario By-Law.
We have made a lot of changes and implemented a lot of tools to ensure we have done all we can to make Budo a safe environment for our members. These changes are in response to the COVID-19 pandemic, the gravity of which is at the forefront of our minds, and of the utmost importance to us, as is the health and safety of our club members and staff.

Upon returning to Budo Canada you will see a new sign-in process as we screen each person entering the facility, take their temperature using a touchless thermometer, and ask everyone to wipe down their personal equipment before entering the facility. We encourage everyone to watch the "Budo Canada Post COVID19 Reopening Video" at the top of this page for a better understanding of all the changes and procedures set in place.

Though Toronto has been approved to move into Phase 3, we must continue to maintain social distancing and ensure our equipment is sanitized and disinfected before and after every use. Most of the new procedures and cleaning methods will stay in place for the long term until a vaccine is readily available. We ask that everyone adhere to the rules and help maintain and clean and friendly environment for everyone to enjoy.
Our schedule has also been modified, and will continue to be adjusted as more members return. In Phase 3, we are allowed a maximum of 50 people at one time. We intend to restrict classes overlapping to a maximum of two, plus open workout time for those wanting to workout on their own. We also have two new Private Training rooms that can be used for those wanting to workout or train on their own, or with a coach.

We look forward to seeing everyone again! And yes, we are accepting new members!
– Your Budo Canada Team

Subscribe to our new monthly Budo Canada mailing list to stay informed on our latest news, promotions, and upcoming events
Monday to Friday: 6:00am – 10:00pm
Saturday: 8:00am – 8:00pm
Sunday: 8:00am – 6:00pm
Closed Civic Holidays
COVID-19 May Impact Schedule. Please Contact Us Before Arriving.